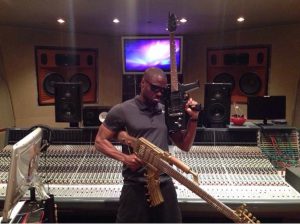 Arsonal is a producer/songwriter from Washington D.C. with versatility and a command of music that puts him a category by himself. His style is influenced by the sounds and cultures of the world and he uses inspiration from his international travel to find new ideas and push the envelope.
Arsonal started producing in 2001 and soon took his connections and met with one of D.C's most known and respected DJ's, DJ Alizay who has been instrumental in getting his name and music out. In 2004 Alizay introduced Arsonal to an up and coming artist in the DMV named Wale. In the years to come Wale and Arsonal created dozens of songs including his first hit "Rhyme of The Century." Arsonal has gone on to work with DC heavy hitter's Raheem Devaugn on his "Spectacular and Dancehall" tracks; Tabi Bonney on his MTVJams singles "Make a Killin (feat. Pusha –T), and "Get Me," and on Fat Trel's "Do What I Do".
In 2006 Arsonal moved to Atlanta and quickly got to the studio producing songs with Sean Garrett, Pusha-T and Akon. While in Atlanta, Arsonal met another up and coming super talent from Jamaica named Akshan. Not long after meeting Akshan, the duo created the underground masterpiece "island rocker" (infusing pop, rock and reggae) to great acclaim totaling 500,000 total YouTube views and 30,000 downloads. More recently, Arsonal has been splitting time between Sleepy Hollows Studios in Northern VA and NYC and has produced and/or recorded the likes of Wyclef Jean, T.I., Katy Perry and others.
SPECIALTIES: Song-writing & music production all genres, mixing & mastering (all genres), bed-music.