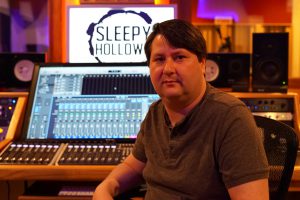 Jeff is a professional recording engineer who has been working in the industry for over 10 years. He graduated f rom Full Sail in 2003 with a degree in Recording Arts and specializes in recording vocals and instruments for all genres using Pro Tools and analogue equipment. Jeff spent the last decade working in Los Angeles, New York, and the Washington, DC area. He has worked with a variety of independent and major label artists including James Iha (Smashing Pumpkins), Adam Schlesinger, Hole, Nora Jones, The Telephones , Deep Dish, DedWax, XNY, Folding Legs, Bo Jankans, K-Beta, and Mic Nice. Jeff did sound track work for Director George Clooney. He also worked on the sound track for the critically acclaimed FX TV series Louie with Director Louie CK. Jeff recorded video game voiceovers with Michael J. Fox in 2012 for the 2012 "Back to the Future" video game.
Jeff worked in New York City for Stratosphere Sound before it closed in early 2013. He is currently the house engineer for Sleepy Hollows Studios in Northern Virginia, outside Washington, DC.
SPECIALTIES: Tracking & mixing all genres.